Humanitarian Aid Update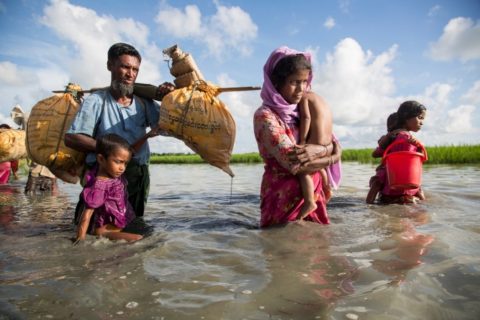 From the Jewish Justice for Rohingya Network – JRJN
"Rohingya? And the Jews are involved?" you may ask… And the answer is "Yes!" I was introduced to the JRJN two years ago through the American Jewish World Service, and invited to serve on the JRJN committee. It is a herculean task to work to support the Rohingya people, with many organizations working together. And the work is not easy, and as you can imagine, very frustrating. As Chanukah comes to an end, let's keep in mind so many – so many – who are in such need… here in our own country, and around the world – fighting for freedom and justice – and the right to live in peace. The news: Bhasan Char The government of Bangladesh has moved forward with plans to relocate Rohingya refugees from camps in Cox's Bazar to Bhasan Char, an island in the Bay of Bengal. In early December over 1,600 refugees were moved to the island, joining 306 who had been detained there since May. More relocations are planned for the coming months. See here for a briefer about the situation, written by a number of coalition partners. Bangladesh has denied UN requests to access the island in order to complete independent technical and protection assessments. All relocations to the island must be halted until these assessments take place. There are reports that coercion and intimidation tactics are being used to pressure refugees to agree to relocation. There is also confusion and a lack of information about the situation on the island. For any relocation to be voluntary, Rohingya must have full access to accurate information, including the results of UN assessments, and ensured freedom of movement between Bhasan Char and the camps on the mainland. What has the JRJN done about this in the past?We came out with a joint statement a year ago condemning this threat. Now, it's come to fruition. What can we do?Right now, raising awareness via social media is what we can do. SAMPLE TWEET:Bangladesh has begun to relocate Rohingya refugees to a flood prone island. Let's stand with Rohingya people as they call for a UN assessment of the island and to affirm the need for any relocation to be voluntary. #JewishRohingyaJusticeNetwork If you want to link to an article in your tweet, here's one: https://www.devex.com/news/as-bangladesh-moves-rohingya-to-bhasan-char-un-and-aid-agencies-face-a-dilemma-98757 What messaging can we use?This is a tricky, delicate scenario that is changing daily. Here are our main asks:
All relocations must be voluntary and include informed consent.
All relocations must halt until the UN is allowed to carry out an independent technical and protection assessment of the island. Protection assessment by UN should also take place in Cox's Bazar to ensure Rohingya are not being forced into agreeing to relocation.
Freedom of movement and right to return to Cox's Bazar are a must.
Hannah WeilbacherProgram Officer for Jewish Advocacy and Engagement(she/her) American Jewish World Service202.379.4277 | www.ajws.org | Facebook | Twitter | Instagram