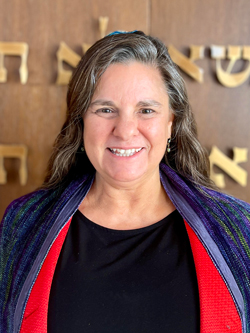 Rabbi Rachel Brown is an adventurer whose route to becoming a rabbi has included attaining a degree in architecture, apprenticing as a carpenter and woodworker, and traveling the Pacific Northwest by bicycle.
Rabbi Brown believes that Judaism gives all who have access to it a way to connect to each other, to God, and to a ritual language that expresses what cannot be expressed with words. Her visionary approach to Jewish life and Jewish education focuses on creating learning and study opportunities for students of all ages.
Rabbi Brown was ordained as a Rabbi by the Ziegler School of Rabbinic Studies at American Jewish University in Los Angeles. She lives in Beachwood, OH with her family, where she is also developing Camp Timbrel, a pluralistic Jewish girls' empowerment camp.