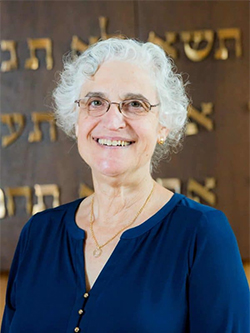 When Rabbi Enid Lader assumed her position as rabbi of Beth Israel – The West Temple on August 1, 2012, she was already a longstanding member and leader of our congregation. Prior to taking that role, she served as the spiritual leader and rabbi for Knesseth Israel Temple in Wooster, Ohio, for ten years. During that time, she studied at the Academy of Jewish Religion in New York and was ordained on May 13, 2010. Rabbi Enid, as she is affectionately known, began her career in Jewish education at Beth Israel, where she served as volunteer principal of the Religious School and then, after her completion of the Cleveland Fellows Program in 1994, held the community-funded position of Director of Congregational and Family Education at Beth Israel – The West Temple.
She worked in the Greater Cleveland community as well, for close to twenty years, as Community Associate in Family Education, with Rabbi Dr. Jeffery Schein.  Active in the Educational Directors' Network, Rabbi Enid also served in various capacities on the regional board for the UAHC (now URJ). For over twelve years, she has taught the JECC's popular Taste of Judaism and Feast of Judaism classes on the West Side. She is currently President of the Rabbis and Cantors Association and is also active in the Lakewood Ministerial Association and Greater Cleveland Congregations.
A Florida native, Rabbi Enid lives in Lakewood with her husband, Harry. They have two daughters: Abby is a pediatrician in Lakewood, Ohio; Leah and her husband, Ananth, live in California with their two young daughters. Rabbi Enid Lader retired as BI-TWT's Rabbi in 2023.