News You Can Use
Yom HaShoah – Anne Frank's Legacy
Guest Speaker – Anthony Wexler, Ph. D., CASE Dept. of English
Anne Frank is the most famous Holocaust victim in America. The hugely popular Diary of Anne Frank, which was published in 1952, introduced Americans to a young, innocent victim of Nazi terror. As a result of its popularity, the Diary was adapted for the Broadway stage and the Hollywood screen. Yet for all its success, the Diary has also been criticized for contributing to what has been called the "Americanization of the Holocaust": the process by which the terrifying events of the Holocaust have been sanitized for American audiences. This talk examines the Diary's remarkable and enduring impact on American Jewish life, from its remarkable production history to the consequences of placing a young, victim-figure at the center of the American Jewish imagination of the Holocaust. Anthony Wexler teaches in the English Department at Case Western Reserve University. After receiving a B.A. from Yeshiva University, he earned his M.A. and Ph.D. from Johns Hopkins University. His research and teaching focuses on Jewish American literature and the Holocaust in American life. He has held research fellowships at the United States Holocaust Memorial Museum, Johns Hopkins University, Northwestern University, and Colby College. Anthony has also spent a number of years studying traditional Jewish texts at Yeshivas in Israel and New York.
 Zoom information: Apr 19, 2020 10:00 AM  – Anne Frank's Lagacyor join us at 11:00 a.m. for the Family Yom HaShoah Memorial Service Join Zoom Meeting https://us02web.zoom.us/j/487034961?pwd=VjdtenBtOTVVTk1PUzZDUXJlQ1hsdz09 Meeting ID: 487 034 961 Password: 002271 Dial in: 646 876 9923 US (New York)Meeting ID: 487 034 961 Password: 002271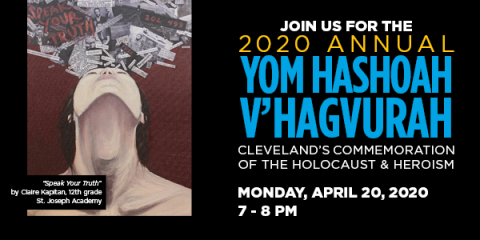 Join our community for Yom Hashoah V'Hagvurah, a virtual commemoration of the Holocaust and heroism. 
This year's arts contest theme was "75 Years Since Liberation: What Have We Learned?"   FEATURING:
Remarks by Rabbi Joshua L. Caruso, Anshe Chesed Fairmount Temple
A local survivor's story
Kol Israel 75th anniversary of liberation video
And more
All are invited to light a memorial candle in their own homes in memory of those who perished in the Shoah. 
We must never forget.REGISTER HERE And… on WVIZ at 10:00 PM 
After Auschwitz is a "Post-Holocaust" documentary that follows six extraordinary women, capturing what it means to move from tragedy and trauma towards life. These women all moved to Los Angeles, married, raised children and became "Americans" but they never truly found a place to call home.