Holidays and Observances

Throughout the calendar year, our holiday celebrations capture the joy of prayer and community…
Rosh HaShanah and Yom Kippur – Services are led by our rabbi and cantorial soloist, along with the temple choir. We include as many of our members as possible in helping to lead the services, read Torah and Haftarah, and share their insights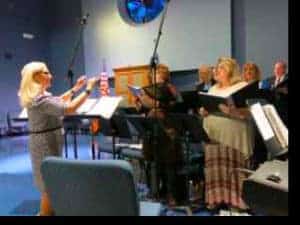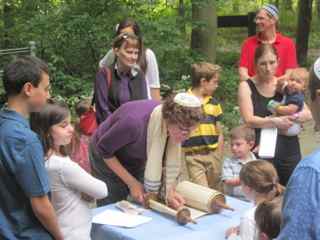 Rosh HaShanah Afternoon Family Service is held at the Trailside Theater at the Rocky River Reservation, and is followed by tashlich, the tradition of symbolically casting off one's transgressions into a flowing body of water. There is also a Yom Kippur Afternoon Family Service that begins at the same time as the Congregational Afternoon Service, with child care available after the family service for those parents choosing to stay for the Afternoon, Yizkor, and Ne'ilah services.
Sukkot – Our high school students set up and decorate our congregational sukkah, and we follow up our joyous Sukkot service with "Pizza in the Hut."
Simchat Torah – Happy are we as we march with our Torahs! Fun, festive, and very musical – our Simchat Torah celebration captures the joy of Torah.

Chanukah – Each year we celebrate the Shabbat that occurs during Chanukah with a family-friendly service, menorah lighting on the windowsills of the sanctuary (which looks awesome!), and a latke supper.
Tu B'Shevat – We come together for a Tu B'Shevat Seder to celebrate the new year for trees and our appreciation of their fruits.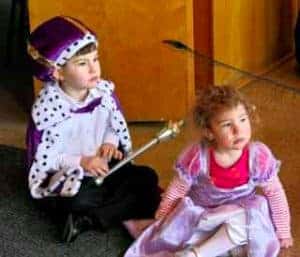 Purim – Laughter and songs, costumes and throngs!  Purim service and Megillah reading are followed by our annual High School Purim Schpiel, Carnival, and Queen Esther's Café.
Pesach – Our congregation offers a Second Seder for Pesach, open to the community, with a creative Haggadah and a delicious Pesach meal.
Our Women's Seder, sponsored by Circle of Friends, has become a tradition in its own right, giving us the chance to dance, sing, and tell stories that help us focus on the journey of our own lives.

Yom HaShoah* – Our congregation observes Yom HaShoah with a special service led by students and parents in our religious school.
Yom HaAtzma'ut* – We celebrate Israel's Independence Day with learning, Israeli music and foods, and a special visit from our community's Shlichah (emissary from Israel).
Shavuot* – This is the time of year when we hold our Confirmation service, featuring our tenth-graders as they lead the service, read from the Torah and from the Book of Ruth, and share their thoughts and insights on what it means to be Jewish in today's world.
Tisha b'Av* – We commemorate Tisha b'Av with a candlelit evening of readings from across Jewish history.
Selichot — We prepare for the High Holy Days with our Selichot service, featuring the prayers and music of Rosh HaShanah and Yom Kippur.
To learn more about Jewish holidays and their meaning, please visit urj.org/holidays.
* Our congregation also supports and participates in community-wide events related to these commemorations and celebrations.